Effective Pest Bird Control in Brisbane
When you own a home, warehouse, factory or other large building, feral pigeons can rapidly become a problem.
Pigeons were once called "rats with wings" by Woody Allen. The biggest problem is their acidic droppings, which will corrode the metal of your property, while the mess they make with nest material and feathers may create blockages in gutters and drains, resulting in damage from overflows during Brisbane storms. The droppings from pigeons are known to contain some problematic human diseases including psittacosis, salmonellae and pseudo-tuberculosis.
Pesky pigeons favourite roost, is the roof of homes, getting in through cracked or broken tiles or windows, as well as any gaps in your roof. Even on well maintained roofs, pest pigeons may roost under overhangs, on the top of air-conditioning boxes, water tanks, gutters and window ledges, in fact any sheltered ledge.
Pigeon Control including Quality Spikes & Netting
Pigeons have an inbuilt homing mechanism and generally remain around their birth site. If relocated, they will quickly return to their birth home, which is why they can be such a pest and relocation is not a viable option.
It is difficult to provide a high level of control since pigeons are free flying and new birds are always arriving. However, the critical issue is to break the breeding cycle, to ensure new young pigeons are not born at your property. With persistent action, the number of resident pesky pigeons will reduce.
Trapping, treating, bird netting, bird spikes and other bird proofing all have a part to play in pigeon pest control. The key is to remove their access to sheltered areas and places to nest. Have a look at our solar panel page for more information about our special system for proofing around solar panels to get rid of pigeons from nesting underneath the panels.
For best results a combination of both removal and proofing is best. Our experienced pigeon removal servicemen will advise which options will be most effective for your home or business. Unfortunately though once pigeons are removed others that have been born at the site in the past may move back in so you may need to do another round of pigeon control 6 or 12 months in the future to maintain control and ensure the numbers of pigeons don't quickly increase again.
Our removal options include trapping, treated grain and shooting. The proofing is completed with welded mesh, pigeon spikes and or netting. The netting and pigeon spikes we use are a high quality product with a long life.
Perhaps the fastest and most humane method of eradication is using a specially licensed pigeon shooter. This method is appropriate for some locations, such as warehouses, feed-mills and food factories. It quickly reduces feral pigeon populations, and also encourages them to move to other locations away from human habitation; it has no impact on other native birds that may be nesting in the area.
Pigeon Removal by Shooting
Removal of feral pigeons by shooting is appropriate for situations where experts cannot install netting and especially where there are complex structures which offer many places for birds to roost.
Pigeon shooting has been used successfully around food factories, processing plants and oil refineries often because there are reasons not to place traps or poisonous baits. Feral pigeons will nest and sit behind equipment like air conditioning pipework, selecting sheltered places where it can be difficult to exclude them. Removing individuals by shooting may be the best option.
A licensed shooter can use low velocity bullets to remove persistent birds, especially those nesting close to complex equipment. Eradicating the leaders of a small flock of pigeons deters the others from remaining. The most important consideration is to recognise that if no action is taken, more birds will arrive to both roost and nest so that some form of eradication or control will be even more urgent. Extra birds will create more mess as the flock grows in size and that can create extra building maintenance costs.
For example, it is not unusual for electricians to refuse to service air conditioning equipment that is covered with pigeon poo and of course the birds droppings are very corrosive which may damage electrical equipment, so when an area with equipment cannot be netted and there are too many ledges to fit bird spikes everywhere, then shooting pigeons may be the best option.
With accurate shots using powerful gunsights, pigeon shooting can remove enough individual birds, typically over 2 to 3 visits often during the early evening. It provides effective control and elimination of the problem when alternative methods are not feasible.
Visits by a pigeon shooter must be carefully planned to avoid alarm to members of the public or staff. It has been used very successfully to minimise bird damage in many industrial sites around Brisbane.
Control of pigeons by eradication can be controversial but unfortunately feral pigeons assemble in flocks, make a disease ridden mess, and continue to increase in numbers until some action is taken. They cannot be controlled by dispersal because as "homing pigeons" they imprint on a specific location and persistently return.
So when trapping is not practical and there are too many places for birds to roost and hide, then pigeon shooting can be the only effective option for eradication or at least some degree of control.
Get Rid of Birds using Expert Pigeon Removal Servicemen
The best solution for a pesky pigeon problem will be different for every building so we offer to visit the property, do an inspection and give you a free* quote for the most effective pigeon control option. Talk with us about the best strategy to remove feral pigeons from your home or business.
To learn more about  how to get rid of pigeons and pigeon removal brisbane, check out our Pigeon FAQs.
Why Choose Peter the Possum Man to Control Your Pigeons?
Obligation free* quotes for pigeon control including quotes for fitting bird spikes, removing bird nets, lice removal, bird proofing, chemical treatments, trapping or shooting.
We have pigeon control people based around Brisbane, including Ipswich & Redcliffe which means no matter where you are in Brisbane, we can remove your pigeons.
Experienced in pigeon pest control from domestic houses, schools, and churches and can provide solutions for larger commercial premises including shopping centres.
Expert advice on how to prevent or minimise pigeon reinfestation.
12 month free service period on our pigeon proofing work and where appropriate a 3 month free service period on the removal of night roosting pigeons. If they come back we come back and fix it!
We can also provide roof vacuuming to remove pigeon droppings & debris that the birds have left behind.
Contact Us For a quote
Contact Us For a free* quote about how to get rid of pigeons from your home or business, fill out our form or call our office between 8.30am and 4pm, Monday to Friday.
Contact us today for fast, effective Brisbane pigeon pest control.
Check out this link to learn more about Feral Pigeons behaviour and breeding.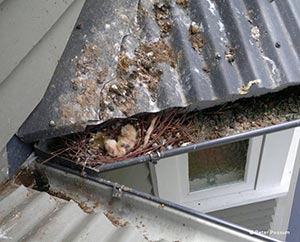 If you are a tenant, unfortunately we do need the owner's permission to conduct any proofing work at the property, as it is structural work on the house. We would prefer if the owner is aware of the issue and requests the inspection from us directly so we know they are willing to consider our quote.
FAQs
How do you do pigeon removal?
Pigeons usually return to the place where they were born and can be very reluctant to move to another building. This is why they can be difficult to remove. Our licensed pest controller will inspect and assess the situation to determine the best solution for pigeon removal for you. We usually recommend a combination of both removal and proofing for best results. The options include fitting spikes, mesh or bird netting as well as removing by trapping, chemical treatments or in special circumstances, shooting.
Why is it more effective for a pigeon removal job to be done in 2 stages?
Pigeon pest control by trapping, shooting or using treated grain is usually only a temporary measure to remove the resident pigeons. So we recommend both pigeon removal but also long term solutions like installing bird netting, bird spikes and mesh proofing to prevent other pigeons, that may have been born at the site in the past, from moving back in when the site is available and nesting again.
Why are pigeons coming to my property?
Usually when we do pigeon removal they are birds that were born at the site, possibly an older house that has been renovated or demolished before rebuilding. Otherwise the birds are attracted by food nearby, shelter or it is an elevated location with views so they can easily spot any danger from predators.
Why do you have to eradicate the pigeons when you do removal?
Pigeons are a feral bird in Australia, so they are not native and if caught during removal, must be euthanised by law. As their species name "Rock Dove" suggests they like solid structures like cliffs which unfortunately means pigeons love to live on buildings rather than trees. This causes many issues for people in cities not only because they are noisy and messy but also because they carry many diseases. This is why pigeons cannot be relocated and should be removed promptly by a licensed pest controller.
How quickly can you remove the pigeons?
It depends on the situation if they are in a large area like a warehouse or undercover area, we may be able to do removal via pigeon shooting so any birds shot are removed immediately. But most pigeon removal is conducted over a 4-6 week period. If we trap or treat the pigeons often we need to train them to feed first so it is a process that does take some time to achieve good removal results.
What can I do when my neighbour feeds pigeons?
It is not easy to find a solution as some people are happy to feed feral birds as well as natives. If possible discussing concerns with the neighbour may help. We can provide deterrents for birds using your property but an effective pigeon removal solution will be hard to find if someone else continues to attract the birds by feeding. In some cases Council Health Officers will consider the situation to be a health issue and issue orders demanding a cessation of actions that attract the pigeons but enforcement is inconsistent.